<< Back
Indian food and eggplants
I will admit it, eggplants are not within my repetoire of vegetables I seek out to eat. First, I don't know too much about them and second, there's something squishy about them. BUT, that should not sway anyone from trying it, and with this recipe, I am determined to make a go of it. I love Indian food and eggplant is a staple of that country's cuisine.
According to the description provided by the author of this recipe, "This is a traditional North Indian (Punjabi) Bhurtha made with eggplant and tomato, and seasoned with cumin, turmeric garlic and ginger. Serve with fresh roti or naan."
Before you go one step further in your quest to prepare our eggplant, please remember to not refrigerate your eggplant, this increases the bitterness. One of my coworkers hangs her in a cloth bag in her kitchen, and then slices and salts it to draw out the bitter juices when she fries or sautes it. In this recipe, you cook the entire eggplant before cutting it, so don't bother salting it.
Ingredients:
1 eggplant

2 tablespoons vegetable oil

1/2 teaspoon cumin seeds

1 medium onion, sliced

1 teaspoon chopped fresh ginger

1 large tomato - peeled, seeded and diced

1 clove garlic, minced
1/2 teaspoon ground turmeric

1/2 teaspoon ground cumin

1/2 teaspoon ground coriander

1/4 teaspoon cayenne pepper

1/2 teaspoon salt, or to taste

ground black pepper to taste

1/4 cup chopped fresh cilantro
We have the tomatoes, hot peppers, and eggplant all at our stand at the same time in mid-late summer. The herbs could be nearby at some of our neighbor's stands.
Preparation:
Preheat the oven's broiler. Rub oil on the outside of the egg plant, or coat with cooking spray. Place under the broiler, and cook until the flesh is soft and the skin is blistering off, about 30 minutes. Turn as needed for even cooking. Cut the eggplant in half lengthwise, and scoop the flesh out of the skin. Discard the skin; chop up the flesh, and set aside.

Heat the oil in a large skillet or wok over medium-high heat. Add the cumin seeds, and let them crackle for a few seconds and turn golden brown. Be careful not to burn them. Add the onion, ginger and garlic; cook and stir until tender. I don't let the onions get very brown. Stir in the tomato, and season with turmeric, ground cumin, ground coriander, cayenne pepper, salt and black pepper. Cook and stir for a few minutes.

Place the eggplant pieces in the skillet, and cook for 10 to 15 minutes so some of the moisture evaporates. Taste, and adjust seasonings if desired. Garnish with fresh cilantro, and serve.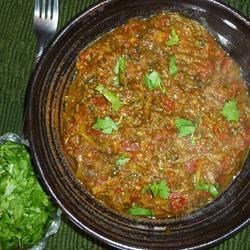 If there is a recipe that you have and you want to share with us and your fellow food fanatics, please let us know at: info@threespringsfruitfarm.com
Cheers,
Alana